Our economy relies heavily on semi-trucks to transport a plethora of important goods across vast distances. These massive vehicles encounter unique challenges when sharing the road with standard-sized passenger vehicles. When accidents occur between semi-trucks and passenger vehicles, the potential for serious personal injury is ever-present. The challenges associated with making right turns are a major cause of concern for semi-truck drivers. Read on for information on the intersection between wide right turn accidents and personal injury litigation.
Understanding Wide Truck Turns
The reason why many large trucks make wide right turns is a combination of two factors — the length of the truck trailer and the location of the semi-truck in traffic. Properly executing a right turn requires a regular passenger vehicle to make a tight turn in order to stay in the proper lane of traffic. Semi-trucks are rarely able to execute this maneuver because they risk their trailer shifting over the curb as it rotates about the rear wheels. This is not nearly as much of an issue when making left turns because of the increased space that truck drivers have to navigate when turning from the left lane on a roadway.
To compensate for this challenge of making turns from the right lane, truck drivers will often need to swing out into another lane of traffic in order to allow adequate spacing to turn right. This can lead to an increased risk of accidents involving passenger cars for a number of reasons. Major causes of accidents involving wide right turns of semi-trucks will be covered in the following section.
Accidents Involving Wide Right Turns of Semi-Trucks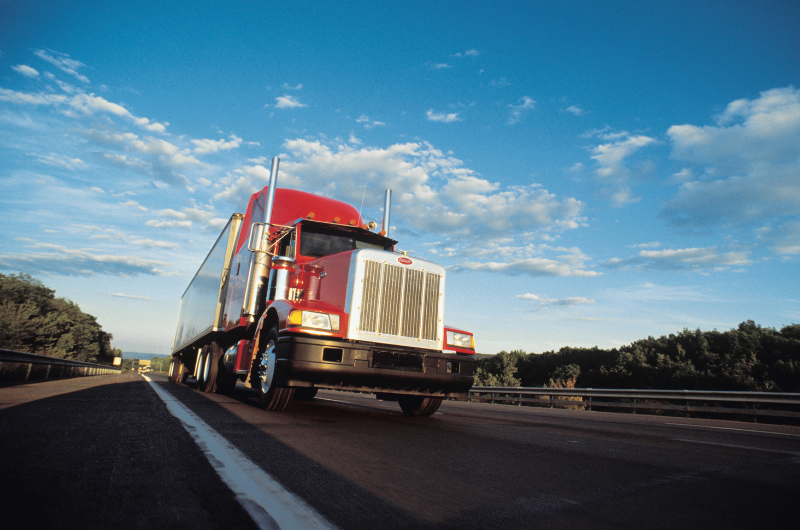 One of the most challenging scenarios for truck drivers is making a right turn from a two-lane road. To execute this maneuver, truck drivers swing into the opposing lane of traffic. Any time a turning truck is positioned in front of oncoming traffic, the risk of significant injury from an accident increases greatly.
Another cause of accidents involving semi-trucks making wide right turns involves passenger vehicles that assume it is okay to be positioned in the right-hand turn lane of a multi-lane roadway next to a semi-truck that is attempting to make a right turn. Drivers who do not realize that their car will be in the way of the truck's trailer are at risk of experiencing an impact with the trailer as the truck executes the turn.
Another common vehicle accident involving trucks and wide right turns occurs when a passenger vehicle attempts to squeeze past a truck that is making a right turn. Often referred to as "squeeze-play" accidents, these events occur when a car mistakenly believes they are good to keep traveling along while the semi-truck is in the other lane. The driver of the car either does not understand that the truck is making a right turn or simply believes they can squeeze past the truck before the turn is executed.
One final type of accident involving wide right turns is the potential for semi-trucks to tip over while making a wide right turn. When an inexperienced or negligent truck driver attempts to make a right turn by either going too fast or cutting the turn too hard to avoid making contact with other obstacles on the road, the high center of gravity of the truck can cause a tip-over. Both the trucker and any drivers in close proximity run the risk of incurring significant injuries in semi-truck tip-over accidents.
Often, wide right turn accidents occur due to a confluence of factors. In addition to those mentioned above, other contributing factors at play can include the failure to use turn signals, not using mirrors to properly manage space around the truck, backing up to complete a turn, defective turn signals, lack of driver experience, unfamiliar routes, distracted driving, driving while fatigued, and driving while under the influence of drugs or alcohol.
Negligence in Semi-Truck Personal Injury Cases
When the driver of a passenger vehicle is involved in an accident with a semi-truck and is injured as a result, they are likely going to want to understand their options for pursuing legal action in order to recover compensation for any damages incurred as a result of the accident.
To successfully recover compensation, a plaintiff and their legal team must be able to prove to the courts that the semi-truck driver was acting in a negligent manner in the events leading to the accident. For example, if the driver was not properly checking their blind spots in the moments leading to crash, this can likely be considered negligent behavior and therefore the driver and/or their company may be liable for compensating the injured victim.
To improve accountability and reduce liability from false claims, many trucking companies equip the cabins of their vehicles with two-way dashboard cameras (i.e. dash cams). These cameras can be used as evidence to determine whether or not the driver was being negligent. In addition, drivers of motor vehicles may consider purchasing a dash cam of their own, especially if they frequently share the road with a high number of semi-trucks. In the event of an accident, the evidence gained from these devices can help courts quickly determine fault.
Common Defenses in Cases Involving Semi-Trucks
Some common defenses that truck drivers may use in personal injury cases include:
The truck driver was not at fault for the accident.
You were partially at fault for the accident.
The truck driver was following all traffic laws at the time of the accident.
If you have been involved in an accident with a semi-truck, it is important to contact a personal injury attorney as soon as possible. An experienced attorney can help you navigate the legal process and recover the compensation you deserve.
Type of Compensation Available
There are many different types of compensation that may be available to victims of accidents involving semi-trucks. Some of the most common types of compensation include:
Medical expenses: You may be able to recover compensation for your medical expenses, including hospitalization, surgery, rehabilitation, and medication.
Lost wages: If you are unable to work because of your injuries, you may be able to recover compensation for your lost wages.
Pain and suffering: You may be able to recover compensation for the physical pain and emotional suffering that you have endured as a result of the accident.
Property damage: If your vehicle was damaged in the accident, you may be able to recover compensation for the repairs.


The amount of compensation that you may be eligible to receive will depend on many factors, including the severity of your injuries, the extent of your damages, and the laws in your state. An experienced personal injury attorney can help you understand the types of compensation that may be available to you and fight for the full amount of damages that you deserve.
Getting Professional Legal Counsel in Oak Brook

When planning to pursue litigation after an accident in which a truck driver's negligent approach to a wide right turn caused personal injury to other drivers, it is often necessary to seek legal advice from an experienced truck accident attorney. Our legal professionals are able to help accident victims to better understand how negligence laws operate with respect to their case, and they can help plaintiffs build a strong portfolio of evidence that proves the trucking company's negligence.

For years, the attorneys at the law firm of Palermo Law Group have been working with accident victims in Oak Brook and throughout the Chicagoland area as they fight for fair compensation for their injuries. Contact Palermo Law Group today for a free consultation.