In Chicago, the Sox recently made news when they announced the extension of their protective netting designed to keep fans behind home plate safe. The White Sox protective netting now runs the entire length from home plate to the foul poles at Guaranteed Rate Field.
The White Sox were the first major league team to take fan safety to this level and it has drawn two interesting discussions as a result. The first debate is whether the pole netting that protects MLB fans sitting behind home plate should even be extended. Does it change the experience? Is it even effective against the hardest hit balls? The New York Times covers all of that here.
The second debate is whether major league baseball should remain legally immune for injuries to fans who are struck by line drive balls. Some argue that the game has changed and "the baseball rule" should be changed. Are player's hitting and throwing the ball further and harder due to new strength and conditioning regimens? How much closer to the action are the fans are sitting thanks to new stadium designs?
A Fan (and Personal Injury Lawyer)'s Perspective
I am a baseball fan and enjoy going to the ballpark. One of my families' most cherished sports memories occurred while watching the Chicago Cubs at Wrigley Field. A Los Angeles Dodger lost track of the wall in foul territory as he tried to catch a fly ball. He struck the wall, flipped over and landed on top of my wife [watch the video]. My wife and son were on SportsCenter!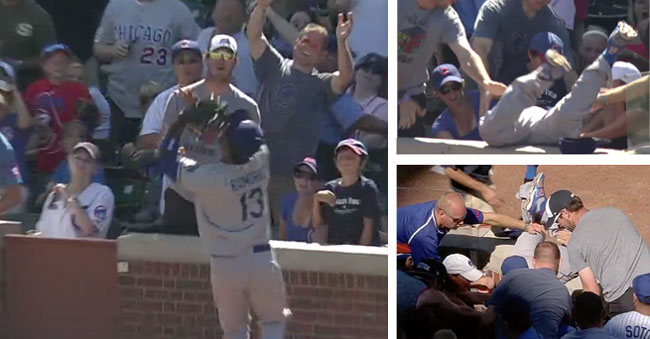 Unfortunately, the outfielder was injured and missed a substantial portion of the season. How would I feel about this event if a member of my family was injured by the hurtling player? What if the player was more seriously injured?
The downside to extending net beyond the end of each dugout is that they will obstruct vision. One can argue how significant the obstruction is, but there is undeniably some visual impairment. Another argument against extending the safety nets is that batted balls are a known risk and people should pay attention to the game.
Opponents of the safety netting also cite to how infrequently these incidents occur. Plus, who doesn't dream of catching a ball and getting a souvenir and a fun memory? Initially, the arguments against protective netting were persuasive to me. However, there were some interesting facts in the articles that changed my mind.
First, the game is faster and people have less reaction time. The balls are struck harder and inflict more damage upon impact while at the same time providing people with less time to protect themselves. Not coincidentally, catastrophic injuries, some involving little kids, are becoming commonplace. I was surprised to learn of how many recent tragic incidents there have been. This past May, a foul ball hit by Cubs outfielder Albert Almora Jr. struck a young girl in the face at an Astro's game in Houston sending her to the hospital.
Second, baseball's pace lends itself to allowing fans to conversate or passively enjoy the game while smelling grilled onions or yes, checking their phones. Thus, it is foreseeable that people will be distracted from time to time.
Foreseeability is one of the major factors courts use in determining whether there is a duty to protect people against a danger. However, major league baseball is nearly immune from liability for injuries suffered by fans who are struck by foul balls due to the "baseball rule".
Kudos to the Chicago White Sox for getting in front of a safety issue with their new netting even though they did not have a "legal" obligation to do so. This begs the question, should MLB teams face legal consequences if a fan is injured by a batted ball given what we know now? I am a personal injury lawyer who fights for people that have been injured. My opinion is biased. I am interested in hearing your point of view after gathering the facts in the above-referenced articles.