Modern vehicles contain extremely effective safety features. From auto-braking to lane-drift alerts, there are many ways in which a modern car can help you avoid serious injury or worse. Even the simple invention of the seat belt has saved many lives. But one of the most important safety features has been around for many years. The humble airbag was first patented back in the 1950s. Since then, it has become a mainstay of auto safety, and this technology has saved countless lives. But despite the airbag's effectiveness, it can also cause injuries in some situations. In other cases, airbags may fail to deploy, leaving you without crucial protection against impacts. If you have been injured by an airbag-related malfunction, you might be wondering whether you can sue the manufacturer for compensation.
One of the most important questions in this scenario is: at what speed at what does an airbag deploy? Airbag systems are only designed to activate when you reach a certain speed. This means that the speed of the accident becomes a crucial factor when establishing negligence. But how do you prove that your accident took place at a certain velocity? How can you use this information to hold airbag manufacturers accountable for the injuries you have sustained? Let's find out…
How Does an Airbag Work?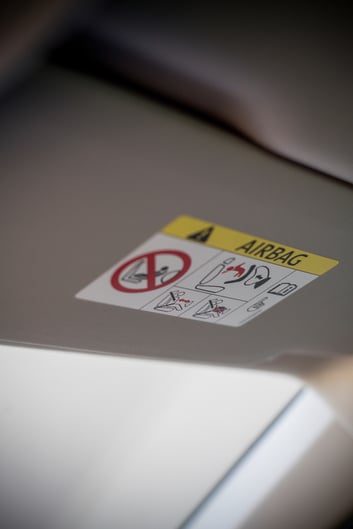 Airbags are strategically placed in a range of locations. However, their most common position is within the steering wheel of the vehicle. They may also be placed in the general front seat area, giving protection to both the driver and the front passenger. Some vehicles (especially newer models) have airbags contained in the side cage of the vehicle, above or around the front windows.
Airbags are made of very lightweight material, and they are attached to special sensors. When the sensors determine that a crash has occurred, a signal is sent to an ignition relay within the airbag. The airbag then quickly fills with gas in a fraction of a second, providing almost instantaneous cushioning for occupants. This prevents the occupants from striking the interior of the vehicle after crashes – thereby protecting them against head injuries, lacerations, spinal cord injuries, and much more. All vehicles newer than 1999 are required to have front airbags by federal law.
There are many types of airbags, including:
Front airbags (the most common type)

Side airbags (for side impact accidents)

Side curtain airbags (for rollover crashes)




It is worth noting that side curtain airbags are not required under federal law. However, the United States does require all automakers to use some kind of system to prevent occupant ejection through side windows. Since side curtain airbags represent one of the easiest ways to meet this requirement, they are common in cars newer than 2018.
The technology is far from perfect. Airbag sensors trigger activation, but they can malfunction, causing them to inflate at the wrong moments. These malfunctioning sensors can also cause failures to inflate. The airbags do not inflate using normal air or oxygen, instead relying on gases that can cause respiratory issues. An eye injury is one of the most common consequences of a faulty airbag, but perhaps the worst possible outcome involves shrapnel being sprayed throughout the cabin.
Common airbag injuries include:
Facial injuries

Chest injuries

Burns

Skull fractures

Broken ribs

Broken wrists

TBI (traumatic brain injury)

Eye injuries

Ear trauma

Hearing loss

Internal bleeding

Asthma attacks

Pregnancy complications
Airbag Statistics
According to the NHTSA, over 50,000 lives have been saved by airbags in motor vehicles over the years. Front airbags have reduced fatalities by almost one-third, causing a huge boost in safety for front-seat passengers. When combined with the use of safety belts, airbags can reduce the chance of fatality by over 60%. Side airbags have been less successful in saving lives, but they can still reduce the risk of death in side crashes by 37%.
But while airbags can save lives, they can also take them. According to the NHTSA, almost 300 deaths were caused by faulty frontal airbag deployment from 1990 to 2008. However, airbag technology is becoming increasingly safe, and 90% of these deaths were caused by airbags manufactured before 1998. Airbags are much more likely to harm or kill short people and children.
How Fast is Deployment?
Front airbags are usually designed to deploy during frontal collisions (and sometimes rear-end collisions, depending on the force of impact) at speeds of between 10 and 16 miles per hour. However, most airbags are programmed to deploy at different speeds depending on whether the occupants are belted or unbelted. For unbelted occupants, the airbag has a low-speed deployment, usually at speeds of around 10-12 miles per hour. For belted occupants, airbags deploy at speeds of 15-17 miles per hour. In both situations, the airbag is designed to deploy when the vehicle hits the equivalent of a rigid wall.
It can be difficult to determine what speed your vehicle reached before the impact. The most effective way is to download information from the vehicle's Event Data Recorder (EDR), which is sometimes referred to as a vehicle's "black box". Indeed, the primary reason vehicles are equipped with EDRs is so that there is a computer in the car to determine whether the airbags should deploy or not. Another strategy is to examine the brake marks left on the road. Police specialists are trained to examine these markings and make accurate deductions as to the speed of the collision.
Airbag Lawsuits are Common
You might think that airbag lawsuits are unwinnable. After all, you are going up against a major car manufacturer. But while these lawsuits can be challenging, you still have a chance to receive a settlement. Just consider the many airbag lawsuits that have been filed recently:
In October of 2022, it was reported that a woman had sued Porsche after her airbag had failed in a Palm Beach County crash. The plaintiff claims that her airbag did not deploy during a serious crash on the Florida Turnpike, leaving her with serious injuries. This woman was actually a passenger in the vehicle owned by her family member. The vehicle allegedly struck a guardrail when the driver fell asleep at the wheel. The plaintiff claims that the passenger side suffered a serious impact that should have activated the airbag, and yet no protection was offered.
This individual apparently suffered facial lacerations and a fractured vertebra, leading her to seek $30,000 in damages. The plaintiff also claims that Porsche knew about safety issues associated with their airbags and did nothing to address the issue.
Failure to deploy is one thing, but what happens when airbags are so dysfunctional that they actually kill people? On November 3, 2022, it was reported that three more people had died due to faulty Takata airbags, raising the death count to 32. The airbags are allegedly so deficient that they are hurling shrapnel through vehicle interiors and causing severe injuries to occupants. Takata has been bankrupted by this scandal, and carmaker Stellantis (formerly Fiat Chrysler) has been forced to recall 276,000 vehicles fitted with these airbags. These models include Dodge Challengers, Chargers, and the Chrysler 300 sedan. Only older vehicles are affected by this recall – with dates between 2010 and 2005.
According to a representative from the National Highway Traffic Safety Administration:
"Left unrepaired, recalled Takata airbags are increasingly dangerous as the risk of an explosion rises as vehicles age. Every day that passes when you don't get a recalled airbag replaced puts you and your family at greater risk of injury or death."
Perhaps most importantly, the NHTSA states that even minor crashes can activate the airbags, causing them to explode and spray deadly shrapnel toward occupants. Some of the deaths allegedly caused by these faulty airbags involved crashes in which victims "should have survived," according to investigators.
In May of 2022, it was reported that GM had been targeted with an airbag lawsuit. In this lawsuit, the plaintiffs accuse the manufacturer of knowingly selling vehicles with faulty airbags. The lawsuit revolves around ARC airbag inflators, which allegedly use ammonium nitrate as a secondary propellant to inflate airbags. This propellant apparently causes microscopic holes to appear when exposed to moisture. This, in turn, causes the propellant to burn too quickly – increasing the chances of a secondary, larger explosion. Finally, this secondary explosion can rupture the metal canister, sending shrapnel flying throughout the cabin.
In other words, this is a carbon copy of the aforementioned Takata lawsuit, and it seems as though this is a pervasive issue throughout the auto industry. Although this particular lawsuit pertains to just seven faulty explosions and two deaths (as opposed to the 32 deaths caused by Takata airbags), it still represents a serious issue that requires attention. The NHTSA is certainly busy these days, as it is actively investigating both situations.
Where Can I Find a Qualified Personal Injury Attorney?

If you are a car crash victim searching the Chicago area for a qualified personal injury attorney who can help you with your airbag lawsuit, look no further than Palermo Law Group. Over the years, we have helped numerous victims in Illinois with car accident injuries. We know that airbags can cause truly devastating injuries, and we're here to help you fight for the compensation you need and deserve. With our assistance, you can pursue a settlement that reflects the true extent of your damages. This settlement can provide you with compensation for missed wages, medical expenses, emotional distress, and much more. Remember, the statute of limitations can prevent you from suing if you wait too long – so book your free consultation today to get started with an effective action plan.