In Chicago, there was recently an Uber driver accident where the drunk driver, Rami Matariyeh, killed 23-year old Uber passenger, Jamie Poulos, and seriously injured two other passengers and then fled the scene of the crime. As a result, Palermo Law Group has been fielding many questions regarding the safety and liability of rideshare services. These accidents happen more often than you'd think, so here is what you need to know if you're ever a victim in an accident.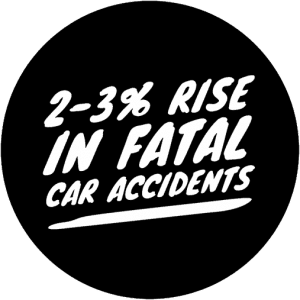 Increased Frequency of Uber Car Accidents
Lyft and Uber drivers perform millions of rides around the world every day, including in urban metro cities in Illinois such as Chicago, Oak Brook, and Downers Grove. Unfortunately, not all of these rides go smoothly. A study released in October 2018 by University of Chicago and Rice University concluded that there was a 2-3% rise in fatal car accidents in the United States due to the increase of available ridesharing services.
What to expect after being involved in an Uber Auto Accident
If you are involved in a car crash with an Uber or Lyft driver – and the ridesharing service driver is responsible for the accident– you are entitled to recover full and fair compensation for the physical, emotional and financial harm (ie. medical bills) that you have suffered. Who will pay for those damages? Would it be the rideshare driver, the rideshare service or maybe even both? That answer depends on several different factors.
Of course, every case is different. To discuss the specific facts and circumstances of your case, contact the highly knowledgeable and experienced car accident lawyer, Mario Palermo at Palermo Law Group. There is no cost for an initial conversation.
Uber and Lyft drivers are not specially trained. They are normal, everyday drivers, who are just as likely to engage in unsafe driving as any other driver on the road. They can – and do – cause accidents.
If a rideshare driver causes an accident in which you are injured, then your legal options will primarily depend on whether the crash happened during one of three scenarios:
Scenario I – Driver NOT Logged into the Uber App
During this scenario, the driver has not logged in to the ridesharing app and is driving for purely personal reasons. If that driver causes an accident, your first option would be to file a claim through the driver's own auto insurance liability policy. Under Illinois law, all drivers must carry at least the following minimum amounts of liability insurance:
$20,000: bodily injury per person
$40,000: bodily injury per accident (all persons)
$15,000: property damage per accident
If the driver doesn't hold personal insurance or has insurance that does not cover the full extent of your damages, you may need to leverage your own uninsured/underinsured (UM/UIM) policy or any other types of coverage which you may have. An attorney from Palermo Law Group can review your insurance policy and help you identify your available coverage.

Scenario 2 – Driver Logged into the Uber App & Waiting for a Ride
Both Uber and Lyft will provide some level of liability coverage if one of their drivers causes a crash during this scenario. For instance, Uber's insurance will cover the damages caused by its drivers in the following amounts:
$50,000: bodily injury per person
$100,000: bodily injury per accident (all persons)
$25,000: property damage per accident
Lyft issues its drivers with "contingent" liability coverage in those same amounts. In other words, if the at-fault rideshare driver has no liability insurance or has personal insurance that fails to fully cover your injuries and losses, the Lyft coverage should step in to cover your damages.
This coverage is important. Today, most insurance companies provide no liability coverage if a driver uses his or her personal vehicle for commercial purposes like ridesharing. Additionally, many rideshare drivers lack personal insurance policies with a "rideshare endorsement." This means they are basically uninsured drivers. To recover any funds that you might be owed for medical expenses, lost income and other damages, you may have to turn to Uber or Lyft.
Scenario 3 – Driver is Transporting a Passenger
If you are involved in an auto accident that an Uber or Lyft driver causes during this period, then your damages should be covered by the Uber or Lyft' liability insurance. Uber, for example, provides "at least" $1 million per accident in coverage. Lyft, on the other hand, has coverage with a $1 million "per accident limit." Be aware that if your damages exceed what the ridesharing company's insurance covers, you may also need to turn to your own UIM coverage.
If you are Injured as an Uber Passenger – Filing Claims
If you suffer injuries in an auto accident while you are a rideshare passenger, and the Uber or Lyft driver is responsible for the collision, you should be eligible to file a claim through the rideshare company's insurance. Remember: Uber provides "at least" $1 million in liability coverage, and Lyft has a $1 million "per accident" limit.
However, if another driver caused the accident, then you could file a claim through that driver's liability insurance policy. If the driver has no insurance coverage – or insufficient coverage – you might be able to file a claim through the UM/UIM coverage that either Uber or Lyft provide.

Can You Sue Uber if Accident was Caused by their Drunk Driver?
This is a difficult question to answer, mainly because Uber can claim that their relationship with their drivers is not a standard employer/employee relationship. However, it is definitely worthwhile to consult with a personal injury attorney to determine what your legal rights are if you are involved in an accident in a vehicle driven by an Uber driver. Uber may be able to be sued separately from the driver. Uber is supposed to do several things to ensure that its drivers practice safe driving. For example, they are supposed to perform background checks on drivers and ensure that they don't have previous DUIs on their records. The company is also supposed to suspend drivers it suspects of being under the influence while driving.
Uber claims that it has a strict policy on drunk drivers. They rely on videos from passengers showing the unsafe driver behavior, drivers admitting when driving drunk, arrests, and results of breathalyzer or sobriety tests. Uber claims to automatically suspend any drivers if it receives at least three reports from passengers or members of the public that a driver was drunk, even if the reports are not confirmed. However, an investigation into Uber's response to complaints about intoxicated drivers revealed that of 154 cases, the company failed to suspend or investigate drivers in 151 of them.
It is bad enough being involved in an accident while in a ride-share car. It is even worse realizing that the driver was intoxicated and that the company that hired them had allowed the driver to continue to drive after previous complaints. If this has happened to you and you have been seriously injured and not sure how to proceed, you should contact Palermo Law Group for a free case review.
Illinois Car Accident Attorneys Can Help You After an Uber Crash
Attorney Mario Palermo of Palermo Law Group has protected the rights of car accident victims and their families throughout Illinois since 1996. Through the years, Mario has kept pace with the latest legal trends and developments, including liability in Uber accidents and other rideshare companies like Lyft.
If you or a loved one has been injured as a result of an Uber or Lyft crash, we will conduct an immediate investigation to determine who was responsible for the accident. We will also identify all sources of compensation available to you and explore all of your legal options. From there, we can demand a settlement from the insurance company involved in your case and, if required, go to trial in order to obtain the compensation that you deserve.
Attorney Mario Palermo always goes above seeking fair compensation when injured by someone else's negligence. We will administer your case from the start so you are able to receive full medical, personal and vocational recovery from your accident injuries.
Wondering if you have a case? Contact us today at (630) 684-2332 to speak directly with nationally recognized car accident attorney Mario Palermo, and visit us online at PalermoLawGroup.com for more information.