When an individual is involved in a car accident and suffers an injury, sometimes the treatment and recovery is straightforward. However, there are often instances where a person's range of motion is significantly impacted as a result of the accident. These types of injuries can often have long-standing implications for a person's quality of life if they are not properly addressed. In addition, the costs involved in this treatment can often be fairly high for the average American.
A qualified local personal injury attorney can help accident victims determine if they are eligible to recover monetary compensation for their injuries following an accident by engaging in litigation. If you or someone you know has suffered limited range of motion following a car accident, read on for some information on how the process works.
Effects of Car Accidents on Range of Motion
An impacted range of motion can affect various parts of the body and stem from injury or trauma to various underlying structures, such as joints or tissues. Car accidents can inflict such powerful force on the body that multiple different systems can be affected simultaneously. What follows in this section is an overview of some of the different types of injuries that can result from a car accident and impact an individual's normal range of motion. The types of injuries that often cause this limitation can be dislocation (for example, if you dislocate your elbow), fractures, or muscle/joint tears.
Joint injuries resulting from car accidents often impact a person's shoulders, wrists, hips, and knees. In addition, a person's spine is made up of various joints called vertebrae that are responsible for holding up the back and facilitating proper nervous system functionality. Joints are made up of various elements including bone, muscle, synovium (soft tissue), cartilage, and ligaments. When any of these underlying systems is damaged after a car accident, a person's joint movement and overall range of motion in the affected area can be limited for days, weeks, or even months. This limited accessibility to the body's usual range of motion can cause more than just dysfunction in your body's normal movement. Over time in some cases, this can lead to loss of muscle strength due to lack of use.
Injuries to a body's soft tissues are also possible in the event of a car accident. Muscles, tendons, and ligaments are all examples of the various soft tissues that run throughout our bodies. When these components are injured in a car accident it can result in the victim experiencing pain, stiffness, soreness, and excessive inflammation. One of the most common soft tissue injuries from car accidents is whiplash, where the sudden force of impact causes trauma to the head, neck, and upper back as the head and neck forcefully jolt forward and backward in quick succession, straining and tearing the soft tissues in these areas.
A similar condition called contracture can also be the result of injury from a car accident. Contracture is often associated with other medical conditions such as osteoarthritis, rheumatoid arthritis, and cerebral palsy, but also can be caused by injury and nerve damage. Essentially, contracture is the tightening of muscles, tendons, skin, and tissue around the injured area. This causes the joints to become shortened and stiff, resulting in an uncomfortably limited joint range of motion.
Treatment for Limited Range of Motion After a Car Accident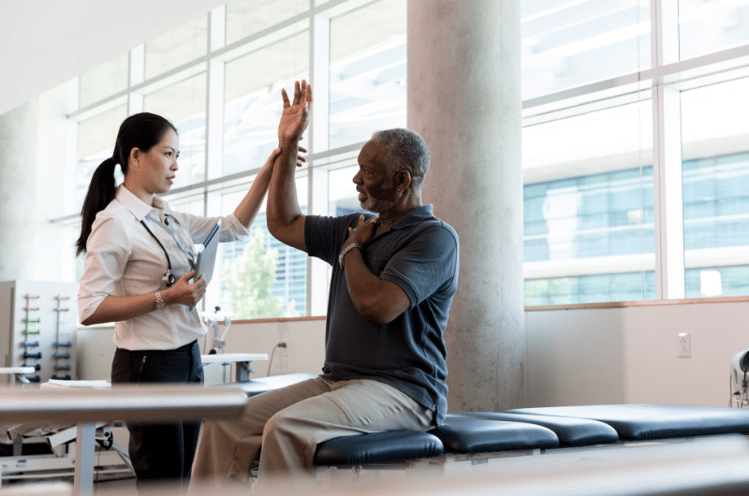 Health care treatment options for a limited range of motion are varied and depend to a certain degree on the nature, the body part, and severity of the injury incurred following a car accident. But regardless of how mild or severe your condition is, it's important to at least seek advice from a medical professional. One important part of treatment for limited range of motion involves the resolving of any misalignments that are present after the accident. For example, a misalignment of the vertebrae in the spine can cause prolonged stiffness and soreness in the neck and back, making certain movements unbearable. Chiropractors use a set of adjustment techniques to realign the vertebrae and restore the spine to a healthy state of functioning, improving range of motion.
Another goal of treating limited range of movement after a car accident is restoring adequate blood flow to the affected areas. Massages, medication, physical therapy, and chiropractic adjustment techniques similar to those just mentioned can all help blood flow to any areas impacted by trauma from a car accident. This blood flow is critical for the body's natural healing processes to function. If you are recommended to see a physical therapist, they will likely give you a number or range of motion exercises to gradually increase blood flow and get your full range of motion back.
Treating and reducing inflammation is another core aspect of treatment for limited range of motion following a car accident. Inflammation can be a major cause of pain and discomfort for accident victims. Ice therapy as well as anti-inflammatory medication can help reduce inflammation in affected areas, restoring a person's full range of motion.
Recovering Compensation for Damages
In the realm of personal injury law, the treatment and medical care for limited range of motion explained in the previous section is classified by a term known as "damages." Damages are any costs that an accident victim incurs as a result of their injuries. When a person experiences limited range of motion after incurring personal injury from a car accident, the treatments described in the previous section are considered damages and may be eligible for reimbursement/compensation by completing the litigation process.
Damages in personal injury litigation take two primary forms. The first, known as compensatory damages, are what the majority of Americans envision when they think of recovering monetary compensation for damages incurred in an accident. Compensatory damages, as the name suggests, are meant to "compensate" the injured person for the costs involved in remediating any injuries and damages property that result from the accident. Compensatory damages can include the following:
Treatment for injuries - This can include both treatments received for immediate injuries at the scene of the accident as well as any ongoing treatment to address issues related to the limited range of motion an injury victim may experience after a crash. Consultation with an experienced local personal injury attorney can help plaintiffs assess the anticipated costs of future medical care before heading to court.
Lost income - A court can award compensatory damages to address not only the salary and wages lost due to time off work for medical treatment after an accident, but also any future income lost due to complications or life adjustments that must be made because of the injury.
Property loss: When a vehicle or other personal property is damaged in an accident, a plaintiff may be awarded compensatory damages in order to cover the costs of repairing or replacing the damaged items.


Although compensatory damages are the primary form of compensation used by personal injury courts, there exists a second form of damages that may benefit plaintiffs in certain cases. Known as punitive damages, this type of compensation is awarded to plaintiffs in order to "punish" the defendant for their actions. Punitive damages are typically only awarded in cases where the defendant's behavior was reckless or negligent to a significant degree. These damages are meant to send a message that the behavior that caused the accident has serious consequences.
How to Succeed in Litigation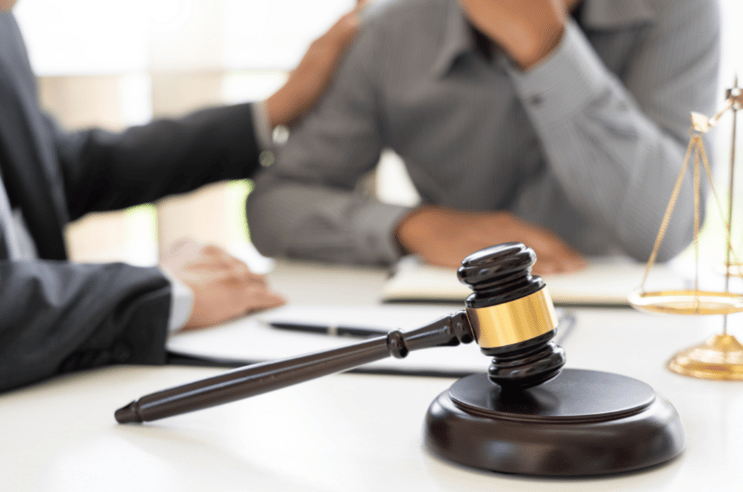 In order for a court to award monetary compensation for damages to a plaintiff, the plaintiff and their personal injury attorney must be able to prove that the injuries they suffered from the accident were due to the negligent behavior of the other party involved in the crash. If the plaintiff was substantially responsible for the accident, they are likely going to face significant challenges in recovering compensation from the court system.
Illinois state law follows a doctrine of fault determination known as "modified comparative negligence." Under this system, a court will look at the actions of every party involved in an accident and assess a percentage of fault to each. If a plaintiff's degree of fault is 50% or greater, they will be subsequently forced to forfeit any chance at recovering compensation for their damages.
Put another way, an accident victim who is more than halfway responsible for the accident is not actually deemed a "victim" in the eyes of the court, but rather viewed as the predominant cause of the accident and therefore not eligible to receive compensation for their damages. Therefore, although it may be a reflexive notion to pursue litigation after suffering an injury from an auto accident, it is important that prospective plaintiffs take time to truly assess the events leading to the accident, including their own actions. Consultation with an experienced local personal injury attorney can help plaintiffs to better understand if pursuing litigation is appropriate in the given circumstances.
Another important point to consider when going through the litigation process is that if a plaintiff is deemed partially at fault, but less than halfway responsible for an accident, they are able to recover damages under Illinois state law. However, the amount of compensation that the plaintiff will ultimately be awarded will be reduced by a percentage that is relative to the degree of fault a court assigns to the individual.
For example, a plaintiff who is deemed 25% responsible by the court (perhaps for speeding at the time of the crash) will be eligible for compensation. However, whatever final compensation amount the court determines for the plaintiff will be reduced by 25%, reflecting the degree of fault the plaintiff was assigned for the accident.
Getting Professional Legal Counsel

Navigating the legal frameworks involved in personal injury litigation can be a daunting experience for the average American. The process can be even more taxing when the injured individual is suffering from ongoing issues due to limited range of motion from the injuries incurred. For years, the attorneys at Palermo Law Group have been helping accident victims in Oak Brook and throughout Chicagoland as they pursue the litigation process. Contact Palermo Law Group today for expert insight into your case.