HOUSTON (January, 13, 2020) — After being struck in the head by a sharply hit foul ball from Chicago Cubs outfielder Albert Almora Jr. at a Cubs/Astros game in May of 2019, a 2-year-old girl has permanent brain damage.
An attorney representing the girl's family said, "She [the child] has an injury to a part of the brain, and it is permanent. She remains subject to seizures and is on medication and will be, perhaps, for the rest of her life. That may or may not be resolved."
The young girl remains in treatment for the brain injury and doctors have not yet determined whether she has cognitive deficits due to her injuries. Doctors described the permanent brain injury as the equivalent of a stroke in its effect on the girl's central nervous system.
The girl suffered a cracked skull, subdural bleeding, brain contusions, and brain edema.
While she is receiving excellent care and is able to continue with much of normal daily routine typical of a child her age, her parents have to always keep a very close eye on her.
Foul Ball Injury Prevention
MLB has grappled with the issue of ballpark safety in recent years. Injuries to fans at ballparks have become increasingly common. About 1,750 fans are hurt each year by foul balls at MLB games which equates to a rate of roughly two injuries per every three games. This makes a fan's foul ball injury more common than a player being hit by a pitch.

Injuries from a foul ball are more common than a batter being hit by a pitch

A young fan was hospitalized in 2017 after being hit by a foul ball at Yankee Stadium in New York, and a 79-year-old woman died after being struck in the head by a foul ball at a Los Angeles Dodgers game in 2018. She was sitting above the netting behind home plate.

The 2-year-old girl was injured at the Cubs/Astros game with a line drive foul that swerved into the field-level seats along the third-base line.

The crowd gasped loudly when the ball struck the child and nearby fans immediately began signaling for help. The player who hit the ball was distraught and in tears at home plate, throwing his hands behind his head immediately after seeing the impact. The girl's seat was just beyond where the protective netting ends at the edge of the visitors' dugout.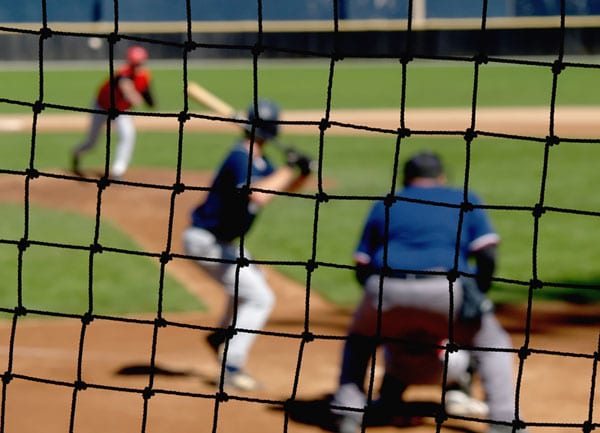 In August, the Houston Astros extended the netting at Minute Maid Park in Houston, going further down the field lines to cover more seats. Then, in December, MLB commissioner Rob Manfred announced that for the 2020 season "all 30 [major league baseball] clubs will have netting in place that extends substantially beyond the far end of the dugout." You'll remember our post in August, the Chicago White Sox was ahead of this trend with netting extending to the foul poles.