If you or someone you know has ever been in a car crash, then you know that the resulting impact can be devastating. One of the major dangers in a crash is steering wheel related injury. From internal injuries to broken bones, steering wheel injuries are a serious concern when it comes to car accidents. In this blog, we're outlining everything you should know about what injuries can be caused due to collision with a steering wheel, and what you should do in an accident if this happens.
What causes steering wheel injuries?
Steering wheel injuries can occur in any of the following ways during motor vehicle crashes:
Sitting too close to the wheel: Many steering wheel accidents occur because the driver was sitting too close to the wheel when the impact happens. Though it is true that most vehicles have airbags that are meant to shield the driver from the impact of a car crash, if an individual sits too close to the airbag, the airbag may not fully deploy at the point of impact. Furthermore, if the airbag deployment fails, or does not timely deploy, this can result in serious injuries, including death.
Whiplash: Whiplash occurs when your head is violently thrown backward and then forward due to a force from behind. When this happens, your brain could strike the inside of your skull at high speed. Whiplash can also cause neck injuries. Check out

our recent blog for more on the effects of whiplash

.
Front-end collisions: A front-end collision can cause your vehicle to stop abruptly while your body continues to move at the same rate of speed you were traveling at before the impact. This can cause your brain to slam against your skull with violent force, causing a traumatic brain injury.
Side-impact collisions: In a side-impact collision, your head will be thrown in the direction of the impact. For example, if your car was struck on the driver's side, your head will be thrown to the left with much force. This forces your brain to strike the right side of your skull and then back again, hitting the left side of your skull. If you happen to hit the driver's side window and then connect with the steering wheel, you can suffer extensive injuries.
Open head injuries: If you hit your head against the steering wheel at the point of impact, the blunt trauma can result in head lacerations or fractures to the skull, traumatic brain injury, and cause other devastating, life-threatening injuries.
What type of injuries are caused by a steering wheel accident?
The most common steering wheel injuries include the following:
Facial trauma
Orbital fractures
Retinal detachment
Rib fractures
Friction burns and abrasions
Cervical spine fractures
When should I see a doctor for a suspected steering wheel injury?
If you are experiencing any pain after coming in contact with the steering wheel after an accident, you should seek medical attention right away. Your physician will diagnose your specific injuries and provide you with a plan for treatment. Contact your physician if any of the following occur: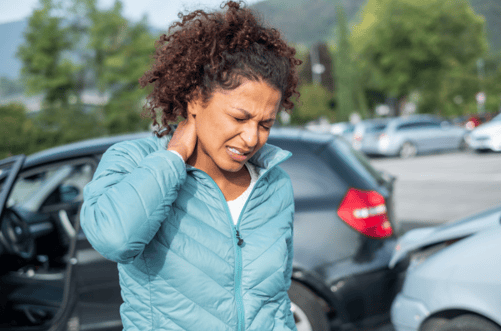 You feel immediate pain after the injury. If you experience severe pain right after an accident, you should visit the physician. It is important not to ignore your pain symptoms, as pain could indicate that something more serious is wrong.
You have multiple symptoms. If, after the accident, you simultaneously experience pain and other symptoms (such as numbness, jaw discomfort, or fatigue), you should see your physician immediately.
The pain continues to increase. If it appears that your pain is continuing to get worse, you should see a physician right away. It is important to note that symptoms often get worse when an injury has not yet been diagnosed.
What are some signs that a steering wheel needs to be examined?
It is important that you do not drive if your steering wheel is showing signs that it needs to be examined. Some of these signs include:
The wheel is hard to turn while driving. If you find that your steering wheel is becoming harder to turn, it's likely due to a problem with the power steering system. On most vehicles, the hydraulic system makes steering a heavy vehicle much easier, and it requires a specific type of power steering fluid in order to function properly. Your vehicle may be experiencing a power steering fluid leak, but there are other potential issues that may be causing this issue. If you notice difficulty turning the wheel, it is recommended that you have it checked to determine the proper cause.
The wheel shakes while you're driving. There are a number of factors that can result in your vehicle's steering wheel shaking while you drive. It could mean that your tires are unbalanced, that the alignment of the wheels is incorrect, or that your wheel bearings may be worn. Steering components such as the tie rods or control arms may also be worn. There may be issues with your suspension. If you notice significant shaking in the steering wheel while you're driving, it is best to have it looked at immediately to eliminate any seriously dangerous issues.
The wheel feels loose. You should never drive when your steering wheel is loose. A steering wheel that feels loose may be caused by a damaged tie rod or worn ball joints. You should look out for uneven tire wear and a clunking noise when you try to turn the steering wheel, especially when you are driving at lower speeds. It is important to have your vehicle looked at if you notice these signs. as, as they could cause the steering to fail.
The wheel pulls to one side. A steering wheel that pulls to one side or the other as you drive is typically a sign that your tires are misaligned (meaning that the wheels aren't all pointing exactly where they should be). Wheels fall out of alignment naturally over time as you drive. Ignoring this problem can have negative consequences, as even a temporary lapse in focus may cause your car to veer into another lane or to the side of the road.
Who is responsible for covering the costs of a damaged steering wheel after an accident?
Typically, the at-fault driver will be responsible for the costs of a damaged steering wheel after causing an accident. Pursuant to 625 ILCS § 5/7-203, all motor vehicle owners in the state of Illinois are required to obtain (at minimum) each of the following types of coverage:
$25,000 for the injury or death of one person in an accident caused by the at-fault driver
$50,000 total for all injuries or deaths in an accident caused by the at-fault driver
$20,000 for damage to the property of another person in an accident caused by the at-fault driver


This minimum liability coverage includes medical bills, property damage bills, and other related costs resulting from other drivers, passengers, and/or pedestrians who are injured in a car accident or have suffered damages from this accident. However, it is recommended that drivers obtain additional insurance coverage just in case they are involved in more serious car accidents that result in more substantial injuries or damages. It is important to keep in mind that once policy limits have been reached, an at-fault driver will be required to pay out-of-pocket for any expenses stemming from the injuries and/or property damages suffered in a car accident.
What causes of action are available in steering wheel accidents?
There are two main personal injury causes of action which result from steering wheel accidents- negligence and product liability.
Negligence: Generally speaking, most steering wheel injuries are caused by the negligence of a driver. For example, one driver who acts negligently by running a red light could cause a steering wheel accident that severely injures either himself or the driver of another vehicle. For a plaintiff to succeed against the defendant under this cause of action, the plaintiff will have to show proof that the defendant owed him a duty (i.e. to drive non-negligently) and that he failed this duty (i.e. by running a red light), which resulted in injury or property damage.
Product liability: Another cause of action available is

product liability

. Under product liability, the plaintiff is arguing that he was injured or suffered property damage because the steering wheel (and/or the airbag) was defective in some way at the time of the accident. There are three types of defects that may give rise to liability:


Manufacturing defect: A steering wheel with a manufacturing defect is one that has been properly designed by the manufacturer but was left in a condition other than that which the manufacturer intended.
Design defect: A steering wheel with a design defect is one that typically fails to perform as safely as a reasonable person would expect it to.
Failure to warn defect: Steering wheel manufacturers have a duty to warn users of specific dangers that can be reasonably anticipated from the use of their products. If the manufacturer fails to warn users of these dangers or provides inadequate warnings, they could be held liable for injuries their products cause.
What kind of damages can I obtain in these kinds of cases?
If you file a personal injury lawsuit based on a steering wheel injury, you could seek either of the following types of damages:
Economic damages: These types of damages provide compensation for the monetary losses caused by your injury (for example, medical expenses and lost wages)
Non-economic damages: These types of damages provide compensation for the non-monetary losses caused by your injury (for example, pain and suffering and loss of consortium/companionship)
Were You Recently Injured in a Steering Wheel Accident? Contact Palermo Today

If you have recently suffered a steering wheel injury in a motor vehicle accident and are considering seeking legal advice, please contact the Palermo Law Group. Our Oak Brook personal injury law firm consists of knowledgeable attorneys with over 25 years of experience handling personal injury cases and obtaining successful settlements. We will do our best to ensure that any settlement you agree to provides fair compensation for your injuries. Please contact us today to schedule a free consultation appointment.