(PORTLAND, Ore.) — A $1.1 million lawsuit has been filed by the mother of a 6-year-old girl who was allegedly attacked by a pitbull in December while waiting for a flight with her family at Portland International Airport. The lawsuit blames the dog's owner and Alaska Airlines for the young girl's injuries that required surgery and has left her with permanent scars. They are also investigating whether the pit bull was really, in fact, an emotional support animal.
Mirna Gonzalez and her children were waiting for an Alaska Airlines flight to Texas on Dec. 18, 2017, when she stepped away to get coffee. That's when her daughter, Gabriella, asked to pet the pit bull. It then bit her in the face and left her covered in blood.
Gabriella Gonzalez, who was five-years-old at the time, is pictured in a photo released by the family's lawyer which shows her face covered with cuts.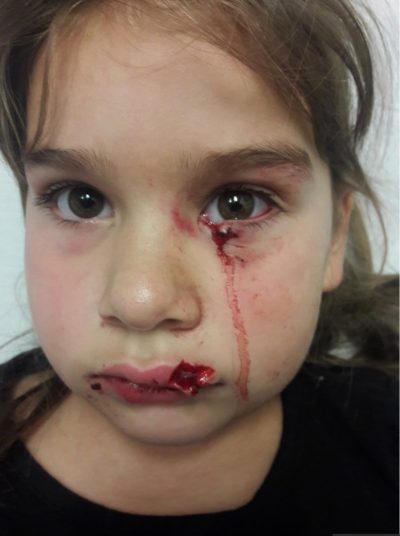 The girl had injuries including her muscles, tendons, bones, nerves and soft tissue of her face, eye, eyelid, tear duct, and lip. She required surgery to repair complex facial lacerations and her damaged tear duct.
Displaying aggressive behavior
The lawsuit claims the dog's owner, "should have known that her pit bull was displaying threatening and aggressive behavior and possessed vicious propensities."
The suit also claims Alaska Airlines is at fault for allegedly permitting the owner to bring a dangerous "emotional support" dog into the gate waiting area without being confined or trained.
"She went through the ticketing process at Alaska Airlines without the pit bull being in a crate, kennel or other secure container," reads the lawsuit. "She then took the pit bull through Port of Portland security without the animal being in a crate, kennel or another secure container. Once inside the secure area of the airport, she went to gate C7 where her pit bull attacked Gabriella Gonzalez."
The girl and her family live in Pasco, Washington, and were traveling through Portland on their way to Texas for the Christmas holiday at the time of the incident.
"There's a lot of abuse of this emotional support animal situation," Stavley told the Post, adding that "folks who have legitimate service animals—people who are blind and need guide dogs and the like—are kind of getting thrown into the same boat [as emotional support animals]." He said the dog attack "shines a poor light on those folks."
The Port of Portland and Alaska Airlines have not commented on the matter, citing pending litigation.
Changing policies regarding emotional support animals
In 2018, Alaska Airlines changed its policies on emotional support animals, requiring owners to keep their cat or dog in a carrier or on a leash at all times.
"We are making these changes now based on a number of recent incidents where the inappropriate behavior of emotional support animals has impacted and even injured our employees, other guests and service animals," Ray Prentice, Alaska Airlines director of customer advocacy said last April.
He added: "Most animals cause no problems. However, over the last few years, we have observed a steady increase in incidents from animals who haven't been adequately trained to behave in a busy airport setting or on a plane, which has prompted us to strengthen our policy."
A new trend of emotional support dog attacks on airplanes
There have been several other incidents of serious dog bites on airplanes by questionable "emotional support" dogs, including one in June 2017, where an emotional support dog bit a man in the face on a Delta Air Lines flight from Atlanta. He was forced to get 28 stitches.
"It's troubling that an airline would allow a dog of such substantial size to ride in a passenger's lap without a muzzle," a lawyer for the man, Marlin Jackson, said at the time. "Especially considering the dog and its owner were assigned a middle seat despite Delta Air Lines' policies that call for the re-accommodation of larger animals."
And in February 2018, another "emotional support" dog lightly bit a girl in the head on a Southwest flight out of Phoenix causing mild injury and delaying the flight.
Legitimate service animals
Many people with medical and psychological disabilities have legitimate needs for service dogs, therapy dogs, or emotional support animals. Legitimate service dogs range from guide dogs for the blind to psychiatric service animals which can sense oncoming panic attacks in owners suffering from post-traumatic stress disorder. Having your service dog wear a vest can make things a lot easier when it comes to getting assistance animals into places where pets are not allowed. However, these vests can be easily obtained on Internet sites such as Amazon.
There are legitimate service dog training programs that have rigorous standards, but some service and emotional support animal registries have few if any standards. Several on the Internet will diagnose your psychological problems for around $100 and send you documentation in the mail.
---
If you have been seriously hurt by a service animal attacking or biting you, please seek a free legal consultation from Palermo Law Group.