Every day, millions of individuals across the United States get into their cars and head out to work, to run errands, or accomplish a multitude of objectives that can only be achieved with the help of automobiles. While our cars serve many important roles in our lives, they can also be a source of significant personal injury in the event of a crash.
To mitigate the risk of car accident injuries, automobile manufacturers are required by federal law to equip their vehicles with a variety of different types of safety equipment. One of the most ubiquitous forms of vehicle safety is the airbag. According to data from the National Highway Traffic Safety Administration (NHSTA), an estimated 50,457 lives have been saved by airbags as of 2017. When individuals are driving a vehicle that has airbags equipped and they are wearing their seatbelt, the risk of death from frontal crashes is reduced by 61% compared to 50% for seatbelts alone and 34% for airbags alone.
It is clear that airbags provide a critical role in reducing the severity of personal injury in the event of a car accident. However, the way that airbags work can mean that under specific circumstances, these devices can actually cause harm to a vehicle's occupants, resulting in serious injuries. After an overview of how automobile airbags work, we will provide some information on some of the most common airbag injuries.
How Car Airbags Work
The intended function of airbags is to protect occupants inside the vehicle from severe personal injury in the event of a car crash. An airbag is an inflatable cushion that is built into the passenger vehicle. A sensor in the car measures the severity of impact of a crash the moment it begins. If the sensor detects an impact over a certain threshold, it will trigger an inflation device within the vehicle which can rapidly inflate the car's airbags. Airbags can reach full inflation in a fraction of a second.
The two most common types of airbags equipped in motor vehicles today are front and side airbags. While many similarities exist between the functionality of these two types of airbags, there are some differences, as well. Since the 1999 model year, the United States federal government has mandated that passenger vehicle (cars, light trucks, vans, etc.) manufacturers install air bags in the driver and passenger position to protect against frontal impact.
Front Impact Crashes
In moderate or severe frontal crashes, front airbags will inflate in order to protect a person's head and chest from making contact with the hard components of the vehicle's interior, such as the steering wheel or windshield. Readers may not be aware that the threshold upon which a frontal airbag will deploy varies depending on whether or not the individual is wearing their seatbelt. Sensors in the seat belt receptacle work in communication with the vehicle's crash sensor. For occupants not wearing their seatbelt, the airbags will typically deploy when the impact of a crash is similar to hitting a wall head-on at 10-12 miles per hour. For occupants who are wearing their seatbelt, however, airbags will deploy at a higher threshold, somewhere in the range of 16 miles per hour.
The driver's airbags deploy from within the steering wheel, while passenger-side airbags deploy from within the dashboard. On some models of car, supplemental knee airbags will deploy, as well. These airbags help distribute the force of impact in a side-impact in an attempt to reduce personal injury to the legs and hips while also helping to stabilize the body, which can reduce impact forces to the chest and abdomen, as well.
Side Impact Crashes
While front airbags are designed to protect occupants from a frontal crash, side airbags are designed to protect occupants if the vehicle is struck from the side. These airbags spread the load of impact across the person's body, preventing significant force in any one particular area. In many side crash situations, the airbag is the only thing protecting the occupant's head and neck from making contact with the vehicle. They can also protect against shattering glass from side windows.
As of the model year 2014, the majority of auto manufacturers include side airbags as standard protective equipment in vehicles. These protection devices can also deploy in rollover crashes. Sensors in the vehicle measure sideways movement and will deploy if they detect an impending rollover.
Injuries Caused by Airbags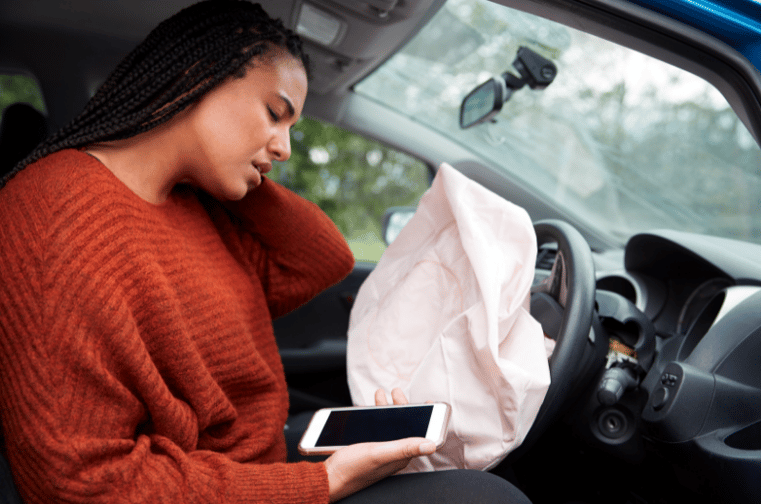 When considering how airbags function, it is not surprising that these safety devices can actually cause personal injury under certain circumstances. When airbags deploy, they inflate very quickly. The energy involved in this rapid inflation can cause injury to occupants who may be sitting or thrown too close to the airbag in the moments before it deploys. Concerns regarding these types of injuries were more prevalent when airbags first became commonplace in vehicles, as the force of deployment of these "first generation" airbags was significantly higher than contemporary airbags. However, that does not mean that the risk of personal injury is not still present in today's vehicles.
There have been unfortunate instances when airbag deployments have resulted in fatalities. According to estimates by the NHTSA, more than 290 deaths were caused by frontal airbag inflation in low-speed crashes in the period between 1990 and 2008. More than 80% of victims in these crashes were not wearing their seat belt or otherwise not properly restrained.
Almost 90% of deaths occurred in vehicles manufactured prior to 1998. It was in this year that federal ruling was changed to require car makers to depower the force with which their airbags inflate. Technological advancements allow modern airbags to adjust their inflation power based on sensors that detect a small occupant or a child seat.
Faulty or defective airbags can also cause serious personal injury if they deploy without warning. When this happens, a driver can easily lose control of the vehicle and cause an accident.
Airbag Safety Tips
The Insurance Institute for Highway Safety has created a number of airbag safety tips that car occupants should adhere to in order to reduce their risk of personal injury from airbag deployment. These tips include:
Ensure that drivers and front-seat passengers remain seated in the center of the seat, with backs upright against the seat and feet planted squarely on the floor.
Avoid resting arms and legs against the section of the console where airbags deploy.
Avoid purchasing any aftermarket dashboard or seat covers, which can block or misdirect an airbag from deploying properly.
Drivers should ensure their chest is at least 10 inches away from the center of the steering wheel.
Young children should always be seated in the back seat of the vehicle. If they must sit up front, the seat should be as far back as possible and the child should be securely buckled into their car seat with a seat belt.
Children should not lean against the door area of the vehicle, where side airbags can deploy. This also prevents immediate impact in the event of a side collision.
Airbags and Personal Injury Law
When someone suffers a severe injury due to the impact caused by a deploying airbag, they are often interested in pursuing litigation to recover monetary compensation for damages they have incurred. If an airbag deployed as intended, the injured person should check to make sure they were adhering to the safety precautions mentioned in the previous section. Acting in a negligent manner with regards to airbag safety will greatly inhibit the individual from recovering compensation for their damages.
In the event that the airbag deployed unexpectedly, indicating a faulty airbag, the injured party may have legal recourse against the automobile manufacturer. In these cases, the victim should contact an experienced local personal injury attorney right away to discuss their case and plan next steps.
If the passenger of a vehicle plays with the airbag storage unit of the vehicle, it may cause the device to deploy unintentionally. This can cause a significant distraction for the driver and may lead to an accident and further injuries. The negligent behavior of passengers in this case may be enough to warrant pursuing litigation to recover damages for any losses suffered.
Ultimately, for a plaintiff to be successful in litigation requires their personal injury attorney to be able to prove that the negligent behavior of another party was the determining factor in the events that lead to the accident. With fault airbags, the negligent party is often the auto manufacturer. In the event of tampering, the negligent party would be whomever was acting irresponsibly around the airbag unit in the vehicle.
Getting Professional Legal Counsel

Although airbags are designed to protect a car's occupants from personal injury in the event of an auto accident, there are cases in which these devices can do more harm than good. To be successful in litigation, the plaintiff and their legal team needs to be able to prove that someone else's negligence was the primary cause of the events that lead to the airbag deployment and subsequent personal injury incurred.

For years, the law firm of Palermo Law Group has been helping accident victims in Oak Brook and throughout Chicagoland as they navigate the legal process of personal injury claims. Contact Palermo Law Group today for a free consultation into your unique case.