Illinois drivers are urged to be extra cautious this time of year as Fall marks the start of deer mating season. The roadways always see more cars hitting deer in the months of October and November as deer become more active, especially in the early morning and evening hours.
How Frequent are Deer-Vehicle Collisions?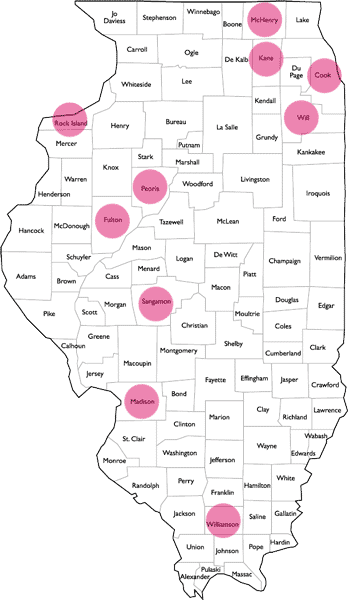 In 2018, there were 15,636 motor vehicle and deer crashes in Illinois. Of these, a total of 14,998 resulted in damage to property or vehicles. Only 630 caused personal injuries. Sadly, 8 of the crashes were fatal.
The top 10 Illinois counties for crashes involving deer in 2018 were:
Cook: 476
Peoria: 391
Madison: 377
Will: 374
Sangamon: 360
Fulton: 331
Williamson: 315
Rock Island: 310
McHenry: 308
Kane: 307
What to do if your car hit a deer
Step 1: If you hit a deer, try to pull over to a safe spot on the side of the road and put on your hazard lights. If you leave your vehicle, stay off the road and out of the way of oncoming traffic. Deer are most active at dusk and dawn — times when you or your vehicle may be less visible to other motorists.
Step 2: Call 911 to report the accident, and request that law enforcement come to assist you and file a police report. This will be helpful when dealing with your insurance company.
Step 3: When and if it is safe and if you are uninjured, photograph any damage to your car. Look for any fur or blood evidence if the deer ran away. Do not attempt to move an injured deer from the roadway without the assistance from law enforcement. Also, write down the names and phone numbers of any eyewitnesses.
While many of us welcome the cooler temperatures and changing colors of autumn, it is also a time when drivers need to be extra vigilant on the roads. There is a heightened risk of hitting a deer with your car in the late fall and early winter.
Hitting a deer can be both very frightening and very damaging to both your car and your body. Also, many people are unsure if their auto insurance covers the damage and what to do if they are involved in a collision with a deer. We've addressed some of these questions below. If you have others, please leave us a comment.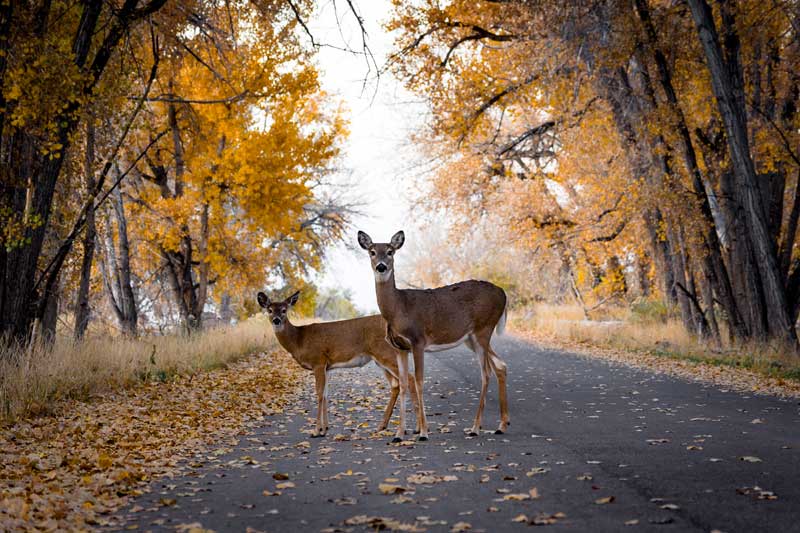 Frequently Asked Questions for when cars hit deer
Will my deer accident be covered by my auto insurance?
Deer accidents are covered by comprehensive coverage, sometimes called "non-collision coverage". If you lease or finance your car, probably have comprehensive coverage; as most lenders require it. It is a good idea to check your insurance policy's declarations page for information on your deductible, your premium, how much you are paying, and how often you pay.
Do your insurance rates go up if you hit a deer?
When your policy period ends, your insurance company will take a look at your driving and accident history and reevaluate your risk. If you caused, or were liable for an accident, the insurance company may find you to be a higher risk and are likely to increase your premium. However, because hitting a deer is not considered at-fault, your insurance company is unlikely to raise your rates much. It's worth noting this does depend on your history and what state you live in.
You also have the option of adding accident forgiveness to your car insurance policy. If you have this, your rates most likely will not increase after an at-fault accident. Some insurance companies like Geico offer it for free. Others, like Liberty or Farmers, may require you to be accident-free for a specific amount of time to be eligible. It is usually not that expensive and people find it to be worth the extra surcharge.
Do you have to pay a deductible if you hit a deer?
Yes, you will have to satisfy (or pay) your deductible before your insurance company will pay for the cost of repairs. In the event of a total loss of your vehicle, comprehensive coverage will pay you the actual cash value of your car.
What if I swerve and miss the deer, but still crash my car?
Other types of car insurance coverage may come into play if you don't actually hit the deer but swerve and miss it instead. If you hit another car, this type of swerving car accident would be covered under collision coverage insurance. This type of insurance covers the physical damage to your car when it collides with something else, like a fence or tree, or another car. It doesn't matter who is at fault in a collision, but there is a maximum on the amount your insurance provider will pay. Collision coverage insurance is often bundled with comprehensive coverage.
When to Contact an Accident & Injury Lawyer

Many car accident victims can have a lengthy and painful road to recovery after hitting a dar. On top of that, they have overwhelming medical expenses, frustrating insurance claims, loss of wages, and permanent or serious injuries. If you've been injured in a deer collision, you may need assistance dealing with insurance companies to seek compensation. Please contact Palermo Law Group at (630)684-2332 to for a free consultation with nationally recognized personal injury lawyer, Mario Palermo, regarding the best approach to obtaining compensation for your injuries.