Sharing the road with large trucks can often be a hair-raising experience, especially while traveling at high speeds down highways or maneuvering through tight inner-city traffic. When an accident occurs and a truck driver causes personal injury to others, there are ways to recover compensation through litigation. Read on for more about this topic.
Drug Testing the Truck Driver After an Accident
After an accident involving a commercial truck, the truck driver may need to undergo a drug test. The branch of the United States Department of Transportation that regulates semi-trucks and their drivers, The Federal Motor Carrier Safety Administration (FMCSA), outlines clear guidance on when a drug test is required of a semi-truck driver after they are involved in an accident. Below is a summary of different scenarios in which the FMCSA requires the truck driver to submit to a drug test.
When a human fatality occurs due to the accident, the semi-truck driver must take a drug test. They must also submit to testing in cases where a person incurs bodily injury with immediate medical care treatment received away from the scene of the accident. Additionally, cases where there is disabling damage to any motor vehicle that requires tow-away services will lead the truck driver to receiving a drug test.
Federal laws also mandate any driver that is reasonably suspected of being under the influence of drugs or alcohol to immediately be tested. Employers must also train supervisors of semi-truck drivers on how to detect symptoms of driver impairment.
A drug test is required of a trucker in just about every type of accident scenario. When a drug test comes back positive for any type of illicit substance, it can be a substantial source of evidence that the plaintiff and their truck accident attorney can use to prove that the truck driver was acting in a negligent manner and that this negligence contributed to the accident and subsequent personal injuries sustained by the victim.
Citations for Semi-Truck Drivers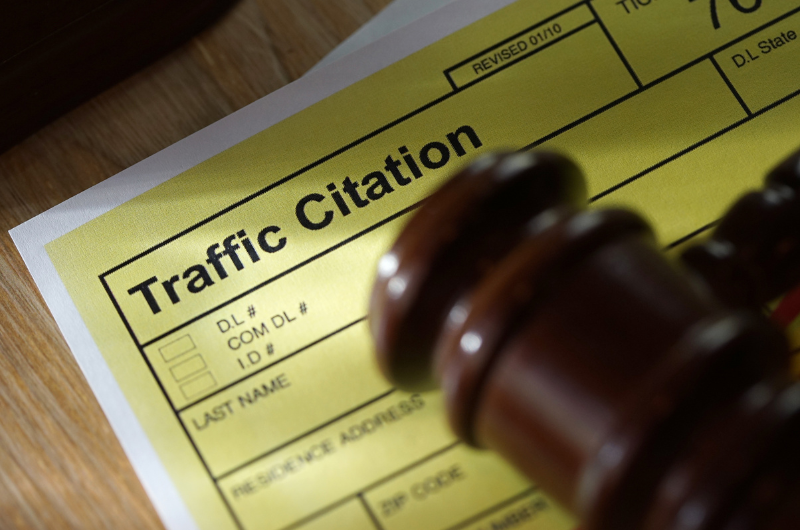 Commercial semi-truck drivers are subject to harsher blood-alcohol content testing compared to other drivers, since the consequences of drunk driving for truckers are often more catastrophic. While the legal limit for non-commercial drivers over the age of 21 is a BAC of .08, for semi-truck drivers the limit is .04.
The penalties for drunk driving in Illinois indicate that any person convicted of a DUI faces up to one year in prison and is subject to pay a fine of up to $2,500. For a second conviction within five years of the previous violation, the offender must serve a mandatory five days in prison or 240 hours of community service.
When a truck driver receives a citation for drunk or intoxicated driving after an accident, it can be used as solid evidence by a victim and their attorney throughout the litigation process. Because driving under the influence of drugs or alcohol is a universal violation of state and federal traffic laws as well as the terms of employment for truck drivers, this situation almost always acts in favor of the plaintiff when attempting to recover compensation for damages they have sustained from the accident.
Common Causes of Semi-Truck Accidents
Blind spots contribute to commercial truck accidents in a number of ways. One common cause of accidents occurs when vehicles are following each other too closely, whether in front or behind a semi-truck. Semi-trucks need a much longer stretch of road in which to slow down, meaning a passenger vehicle that stops abruptly in front of a semi-truck may not be able to avoid being hit from the rear. On a similar note, cars that follow too closely behind a semi may not be ready to brake at the same frequency that truck drivers do, leading to a collision.
Truck driving is an exhausting profession, which is why truck driver fatigue is another common cause of accidents. Fatigue can lead truck drivers to make careless mistakes including not completely assessing their blind spots for signs of danger. Due to the demands of the trucking industry, truck drivers are expected to sit for prolonged periods of time, often at hours of the day that do not align with their normal sleep schedules. This can cause impaired judgment, leading to accidents on the road.
Sudden lane changes constitute another common cause of accidents between semi-truck drivers and other motorists. When either party commits a sudden lane change, it can cause a change reaction of reflexive maneuvers that can cause drivers to lose control of their vehicle. Truck drivers should take prolonged precaution to ensure there is not a vehicle in their blind spots before executing a lane change.
Finally, distracted driving can cause accidents between semi-trucks and passenger vehicles. When a truck driver is distracted by their phone or something else, it can lead to absent-minded decision making that rarely includes due attention to the truck's blind spots.
Determining Whether the Accident Was Preventable
Victims of semi-truck accident injuries may want to understand their options for pursuing legal action in order to recover compensation for any damages incurred as a result of the accident. As experienced personal injury lawyers at Palermo Law Group, we have the expertise to tell you all you need to know.
To successfully recover compensation, a plaintiff and their legal team must be able to prove to the courts that the semi-truck driver was acting in a negligent manner in the events leading to the accident. For example, if the driver was not properly checking their blind spots in the moments leading to crash, this can likely be considered negligent behavior and therefore the driver and/or their company may be liable for compensating the injured victim.
Trucking companies usually equip the cabins of their vehicles with two-way dashboard cameras (i.e. dash cams). These cameras can be used as evidence to determine whether or not the driver was being negligent. In addition, drivers of passenger vehicles may consider purchasing a dash cam of their own, especially if they frequently share the road with a high number of semi-trucks. In the event of an accident, the evidence gained from these devices can help courts quickly determine fault.
Illinois law operates under a method of fault determination known as "modified comparative negligence." Under this system, an injured party can only recover damages if he or she is less than 50% responsible for the events that ultimately lead to the accident and subsequent incursion of personal injury. If they are deemed by the court to be 50% or more at fault for the accident, then they will automatically forfeit their ability to recover compensation from the defendant for any expenses related to the incident.
Understanding Damages in Truck Accident Cases
In the world of personal injury litigation, the term "damages" is used to describe the value of different items that were impacted by another party's negligence after an accident. There are many different types of compensation that may be available to truck accident victims. Some of the most common types of compensation include:
Medical bills: You may be able to recover compensation for your medical expenses, including hospitalization, surgery, rehabilitation, and medication.
Lost wages: If you are unable to work because of your injuries, you may be able to recover compensation for your lost wages.
Pain and suffering: You may be able to recover compensation for the physical pain and emotional suffering that you have endured as a result of your serious injuries from an accident.
Property damage: If your vehicle was damaged in the accident, you may be able to recover compensation for the repairs.


The amount of compensation that you may be eligible to receive will depend on many factors, including the severity of your injuries and relative negligence of each party involved in the accident. An experienced personal injury attorney can help you understand the types of compensation that may be available to you and fight for the full amount of damages that you deserve.
Professional Legal Counsel in Chicagoland

For years, the truck accident lawyers at the law firm of Palermo Law Group have been helping car accident victims in Oak Brook and throughout Chicagoland as they fight for compensation they deserve. If you or a loved one has been injured in a truck accident, contact Palermo Law Group today for a free consultation.