Slip and fall injuries might sound relatively minor until you start to factor in the various types and the long-term consequences. It's all dependent on the severity of your injuries. Slip and fall accidents can lead to fractures across various parts of the body, including the hips, wrists, fingers, arms, and even the skull. Victims may also suffer severe head injuries in these accidents, causing long-term issues such as cognitive decline or even personality changes. But the most important thing to remember about slips and falls is that they are rarely "accidents." The truth is that in most cases, people fall because of hazards that should have been addressed by property owners.
If you slip and fall in a store and become injured, one of the first things you should do is consider your legal options. You may be able to file a personal injury lawsuit against the negligent party to receive compensation. This compensation can cover your medical expenses, missed wages, emotional distress, and any other damages you might have incurred as a result of your accident. For those facing financial limitations, this might be the only way to pay for the medical treatment they desperately need. But what exactly should you do if you slip and fall in a store?
The first thing you should do is report the incident and document what caused you to fall. Many people are embarrassed and just want to leave, hoping that the pain they are experiencing is temporary. Then they come back days later to report the incident, once it becomes apparent that the fall has caused serious injuries. The problem with this is that now you have to prove that the fall happened at the defendant's premises. If there are no witnesses, this can be difficult. Another issue is establishing what caused your fall. The evidence will surely be gone days later. Keep in mind, that Illinois law requires the victim to show that the slip hazard was either caused by the defendant or that it existed for long enough that the defendant to have taken measures to remove the hazard, or at least warn of its existence.
Get Medical Treatment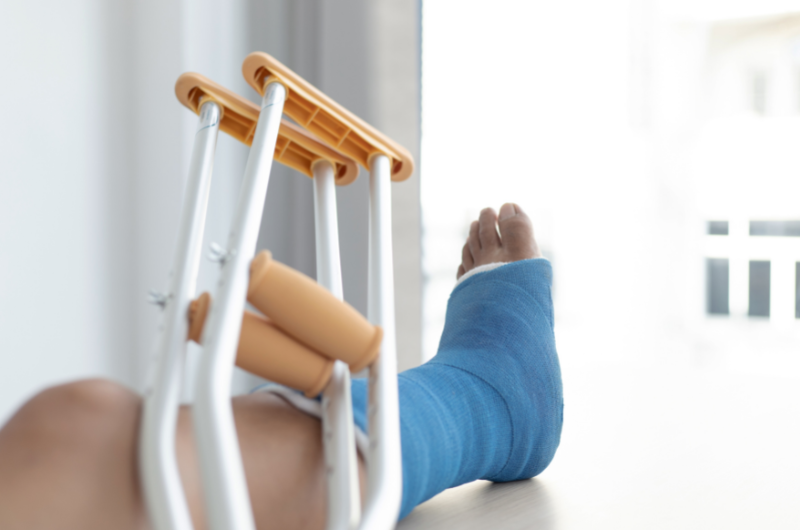 The next thing you should do after a slip and fall is seek medical attention as soon as possible. Even if you think you have experienced relatively minor injuries, it is still worth getting checked out by a medical professional. Your injuries could be much worse than you realize – especially since the shock and adrenaline of the incident could be numbing your pain. If you find yourself on the ground with serious injuries, do not try to get up. Instead, wait for medical assistance. The store staff should call 9-1-1, and paramedics should be on the scene quickly. If no one calls 9-1-1, you can do it yourself.
Even if you are unsure how bad your injuries are, you should take this situation seriously and get treatment as soon as possible. Only a medical professional can assess your injuries accurately and determine the next steps. It is always best to be on the safe side.
But there is also another reason to get medical care as soon as possible. If you fail to get medical treatment, there will be no record of your injury ever occurring. This means that when you file a lawsuit, it may be very challenging to prove that your injuries are legitimate. An important element of proving negligence is showing the court that you sustained real injuries. The most obvious way to do this is to share certain medical records, such as doctors' notes, X-rays, CT scans, and so on. If you never get treatment, you will not be able to use this key evidence. As a result, gaining compensation may be difficult.
Gather Evidence
Your first step after falling should be to gather as much evidence as possible. You might snap a few pictures of the scene immediately after your fall. For example, you might be lying on the ground next to a carton of spilled milk at a grocery store. If possible, you should use your phone to take a picture of the slip hazard that caused your fall. You may be able to use this evidence later to support your claim, showing that store employees or store managers allowed dangerous conditions to be present.
Next, staff members and onlookers might help stabilize your spine by putting you in a sitting position. You might then ask for contact information from potential witnesses. These witnesses may be able to testify on your behalf or provide written statements about your accident. Getting as much contact information as possible is always a good idea, as people may move out of the state or fail to return your calls. One good witness can sway the outcome of your entire case.
Of course, your personal injury lawyer can also help you reliably gather evidence. After you receive treatment, you should search for a personal injury lawyer in your area. Once you team up with a lawyer, you can rely on them to handle much of the investigative work. They can search for additional evidence, such as surveillance videos, to support your claim while you focus on healing.
Find Out Who You Should Sue
Another important step is to figure out who to sue. This might be very obvious. For example, you might choose to sue a grocery store franchise that owned and operated the establishment in which you slipped. On the other hand, you might be faced with a more complicated situation. For example, who do you sue if you fall on a slippery floor in a mall store? Do you sue the mall, or do you sue the store owner? What happens if the store owner was renting the property from a landlord? What if the hazard that caused you to slip and fall was caused by the landlord and not the store owner?
Questions like these are best left answered by your attorney. In most cases, you can name multiple defendants in your lawsuit. This is often the best strategy because it increases your chances of success. If one defendant manages to dodge liability, the other defendant may still be held accountable. It also makes sense to sue parties that can actually pay out your settlement. Suing a bankrupt store owner with no insurance will not get you very far, as this individual will be unable to pay you any money. But if you sue their landlord instead, you might benefit from a quick insurance payout that covers your total damages.
Negotiate for a Settlement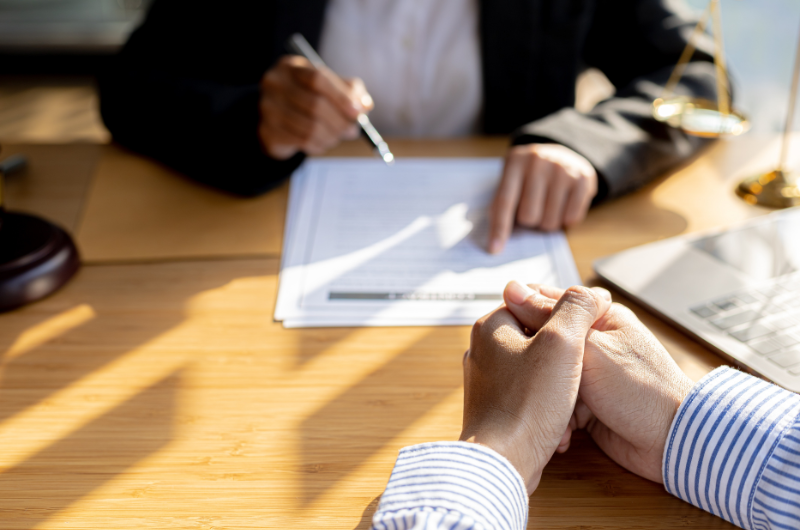 Almost all civil lawsuits – including those involving slips and falls – are settled out of court. This means that you will meet with the defendant, their lawyers, and their insurance providers to negotiate your compensation. These negotiations occur behind closed doors before a trial can take place. No judges are present, and both parties try to come to a favorable outcome. The defendant – including their insurance provider – obviously wants to pay as little money as possible. On the other hand, you need a settlement that covers your total damages – including medical expenses, missed wages, emotional distress, and much more.
The problem is that insurance companies are concerned about their profit margins, and as a result, they will offer you the lowest possible settlement they think they can get away with. This is why you need a personal injury lawyer at your side during the negotiation process. These legal professionals can help you fight for the settlement you need and deserve with proven negotiation tactics. Without a lawyer, it might be easy to accept a lowball settlement offer that does not even cover your medical expenses. The negotiation process can take time, and this may try your patience – especially if you desperately need the money to cover your medical bills and missed wages. Stalling tactics are common among insurance companies for this reason.
When you manage to come to a settlement, you will agree to cease any further legal action against the defendant. In exchange, the defendant will agree to pay you a sum of money. This is how most slip-and-fall lawsuits end.
Slip and Fall Trials
In rare cases, store slip-and-fall cases go to trial. This occurs after the negotiation process fails and both parties refuse to come to a settlement. In some situations, the defendant may refuse to even begin the negotiation process. In other cases, they may offer you a settlement that is far too low while refusing to budge. Faced with these issues, you may have no other choice but to move forward with a trial.
Trials can be time-consuming, costly, and stressful. In addition, they are highly unpredictable. Juries and judges may make decisions that are totally unexpected, leaving you with far more or far less compensation than you hoped for. Sometimes, juries decide that you should not receive any compensation whatsoever. This unpredictable, costly, and time-consuming nature is why both parties almost always prefer to settle matters out of court. If faced with no other option, your lawyer can present evidence and witnesses on your behalf. They can also cross-examine the defense's witnesses and question their evidence.
Where Can I Find a Qualified Slip and Fall Attorney in Illinois?

If you are an injured person searching the Illinois area for a qualified, experienced personal injury attorney for legal advice, look no further than the law firm of Palermo Law Group. We know how serious and life-altering these accidents can be, and we are ready to help you move forward with a solid action plan.

During your initial free consultation, we can assess your unique injury case and determine the best course of action. From there, you can move forward with a degree of confidence and efficiency. Let us handle the legal process of getting your financial compensation while you focus on healing. Get in touch today to schedule a free case evaluation and get the ball rolling.